Welcome to the Fancher Family
Christmas Page - 2002
2002 has been very good for us and we hope you enjoy the photos of the year. Christmas is about faith, family and friends. It is a time to give thanks for every blessing.
Terry celebrated his 35th high school reunion and got to visit his parents two times during the year. It was also the first time Kathleen and Terry took a cruise, and there are pictures below from the cruise.
The picture below is from our Christmas card this year. It is a Caribbean sunrise taken on board The Majesty of the Seas. Click on it and it will become larger.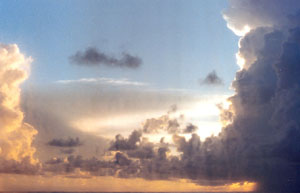 It was a great year for Kathleen's flowers. We visited friends at both Mountain Meadows and Taliesin West. It was a great year for sunrises and sunsets.
Jennifer will soon be finishing college, and she is now a member of the National Honor Society for Psychologists. We are very proud of her. She also passed her Massachusetts certification test for school teachers.
Kim and Matthew have a new dog. We call her our grand-dog and her name is Georgia.
And J.D. the wonder dog gives us all sorts of pleasure. At eleven he doesn't see as well as he used to, but he has plenty of hugs for everyone.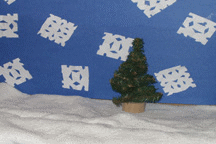 We continue to enjoy our ballroom dancing and thank Mark McLore, Richard Hutton and Jackie Davis for all their help. You are invited to take the link below or take the link from the main page to find out where we like to go out on weekends.

---
If you click on each picture with a right click of your mouse you can download them as screensavers.
Enjoy the Virtual Tour!
We wish you the very best Christmas you have ever had!
God Bless you all!
Terry, Kathleen, Jenn Fancher
and Kim and Matthew Kelley





Take this link to the 2001 Christmas Card
Take the link below for some Christmas music, things to do, pictures to download. We did not create the page. It has some great music and pictures.
http://www.members.shaw.ca/christmastime/merry_christmas.html
Back to the Fancher Family Homepage
Page last updated December 19, 2002