Welcome to The 2008
Fancher Family Christmas Card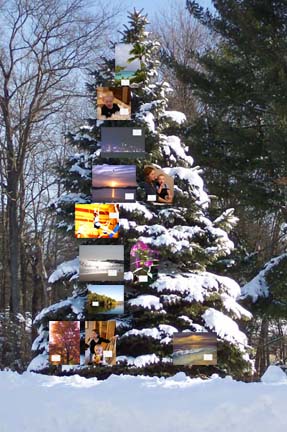 A Personal Note From The Fanchers!
Take the trip with us through 2008. From a dancing cruise in the Caribbean , to new career directions for Terry and Kathleen, to enjoyment of our grandson Daniel Paul Kelley, it was an exciting year, and it is not over yet. As you receive this card in the mail, we are celebrating our 35th wedding anniversary by taking tango lessons in Buenos Aires , Argentina .
To take the trip through 2008, click on each of the calendars in the tree above.
January 2009 Calendar – Dance cruise aboard the Costa Fortuna in the Caribbean .
February 2009 Calendar – Daniel Paul Kelley – our Grandson.
March 2009 Calendar – Boston Skyline as we entertained the Hirchi and Lamb families from Utah .
April 2009 Calendar – Hull Sunset in the Spring.
May 2009 Calendar – Danny and Kim.
June 2009 Calendar – Kim's Dance Recital.
July 2009 Calendar – Hull – A place to dance on Sunday mornings.
August 2009 Calendar – Kathleen's garden of flowers.
September 2009 Calendar – Beaver Lake in Arkansas .
October 2009 Calendar – Quincy in the fall.
November 2009 Calendar – Jenn and Danny at Thanksgiving.
December 2009 Calendar – Mom's recovered artwork.
Our very best to you in 2009!

Click Here For Christmas Music
Enjoy The Piece of Original Artwork of Genevieve Fancher Here
The original artwork was recovered by my Dad, J.K. Fancher earlier this year. It is a seascape and was done around 1980 when Genevieve Fancher (my Mother) was at her artistic peak.

But you,
O Bethlehem of
Ephrathah, who are one of
the little clans of Judah, from you
shall come forth for me one who is to rule in Israel,
whose origin is from of old, from ancient days.
Micah 5:2

Go To Past Christmas Cards Online