The Creativity and Creations
of Genevieve Fancher
May 10, 1927 - November 7, 2007
---
Visit The Virtual Art Gallery site
---
Celebrate The Art of Genevieve Fancher's Life
Enter Here For A Celebration Of The Life Of Genevieve Fancher
---
A Flair for Life
---
Welcome to the homepage dedicated to my Mother, Genevieve Fancher. Genevieve passed away on Wednesday, November 7, 2007. She had created artwork beginning in 1958. Surround yourself with the warmth, depth and beauty of nature, and the ways Genevieve captured life. If you "click" on the images, you can see them fill your computer screen. Please remember they are all copyrighted.
---
Genevieve Painted What She Enjoyed!
---
---
Genevieve was attracted to scenery because of her instinctive need to preserve that which is beautiful. In painting scenery she would first identify the reasons for her attraction to a particular scene. Only then could she concentrate on what she wanted to portray. She was then able to translate those elements to the canvas. Ultimately the viewer must also feel the coolness of clouds - or the warmth of the sunshine - or the mood of the shadows - or the wetness of the rain. The artwork has been featured in a number of one-man shows. Now with the homepage as an artist's tool, you can view Genevieve's art, online.
---
---
Welcome to the Virtual Art Gallery of
Genevieve Fancher!
---
---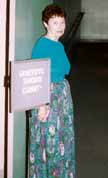 ---
---
In August 1996 many of the flower pictures you see were a part of a one-man show in Springdale, Arkansas. The newspaper article explained the theme.
---
Flowers and Plants
Florals represent intimate close-ups of scenery. No two flowers are alike. Each bloom has its own distinctiveness, much like a person. Florals can then be a transition from the wide spectrum involved in scenes to the detail essential to portraits.





---
Places
Genevieve's approach to painting was to continually project herself into the role of a viewer. She constantly asked herself whether she was satisfied with the final work.



---
An Artistic Use of Leaves
Genevieve painted in oil, acrylic, watercolor and pastel and won first place and best of show in all of these mediums. She always preferred oil bcause she believed it to be a friendlier medium. Oil is more pliant and allowed her to achieve smooth or texture effects. Below you will see leaves that have been cut and pasted and resemble birds and fish.
---
People
Portraits were a natural for her because she loved people, especially children. Her appreciation for the natural beauty of life was at its highest point when she watched children. A number of the portraits were of her grand-daughters Kimberly Diane Fancher Kelley and Jennifer Kaye Fancher Micalone.

---
Religious
Genevieve believed strongly that all talents we possess are God-given and our use of artistic talents should be a creative arrangement of colors, design, and statements to glorify God.
---
Seasonal
Genevieve liked to begin with middle tone colors so that she could adjust her work to lighter or darker values and thus be able to emphasize or subdue effects as the painting developed. Colors turned her on! As a child she often watched sunsets and dreamed of the day when she could capture the mood and radiant glow.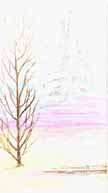 ---
---
Articles written about Genevieve Fancher...
"To be an artist we have to live in a world of vivid imagination, just as a child does. We have to see the intrinsic beauty in a raindrop, the vibrant glow of a setting sun and the misty veil of a foggy morning. Sometimes a fleeting glimpse is all we are allowed to have to imprint upon our minds the feeling or impression that we will have to portray."
This well known artist of the Ozarks began seeing the beauty in the world when she was very young. Instead of just coloring with crayons, she was excitedly capturing the colors of sunsets, birds, and animals in her first attempts at art.
Her paintings have been reproduced on calendars and Square Dance magazine covers. She completed two years of instruction in advertising and related art from Art Instruction, Minneapolis, MN and the John Howard Sanden portrait painting course. Her work is influenced by workshops under Foster Caddell, Albert Handell, Joe Abbrescia, Jessica Zemsky, Jack Hines, and portraits with Paul Leveille, Charles Sovek and Everett Raymond Kinstler. The late Edna Marie Moore, a Texas artist gave her the first private lessons in oil. She is a member of the American Society of Portrait Artists (the only existing organization created exclusively for portrait artists.) This is a juried acceptance.
She has painted an impressive array of portraits of important personages: bankers, lawyers, ministers, and surgeons.
One of her portraits hangs in the Arkansas Governor's mansion and two of Federal Judges are in the U.S. Court of Appeals, Eighth Circuit, St. Louis, Mo. Many of her paintings are in homes and offices in 20 states and one foreign country. She has won many best of show awards.
Prestige shows featuring her artwork have included: The Arts Center of the Ozarks - Springdale, AR 1996; and The American Art Gallery - Hot Springs, AR 1997.
Genevieve's works have been included in an exhibition of twelve Arkansas artists called "Arkansas Rivers and Streams" sponsored by the Artists Registry.
In presenting programs to Rotary and Kiwanis Clubs on "Enjoying Art" she states, "Painting is a language of pictures. It's like talking to the viewers. All people don't speak the same language, just as all people don't see the same things in the same way." "Everything I do is a challenge. I like to try new techniques, new subjects and mediums. I enjoy oil equally as well as pastel; abstract art as well as realistic, therefore, I can speak several languages through art."
When she is working on a portrait of an older person, she often takes their hands in hers and feels the skin, the bones, the veins on top of their hands until she has mentally molded them just as a blind person does by their sense of touch, in much the same way a sculptor creates a masterpiece.
---
In closing...
Genevieve was a charter member of the Harrison Art League, and a member of the First Presbyterian Church in Harrison, Arkansas.
Here is a photograph of son Terry Fancher and Genevieve. This site is hosted on Terry's America Online homepage.
Below is a monthly calendar shot linked to Terry's homepage. If you want to see the picture full screen, just click on the picture itself. You can also print this or any other image on this homepage the same way.
The two scenic works below were done by Genevieve's husband J. K. Fancher Jr.
Also included is some cartoonist work of J.K. Fancher Jr.
---
---

---
---
There is also a link to a celebration of the 50th wedding anniversary of Genevieve and J.K., held on August 22, 1998.
---

---
---
This page last updated 1/8/2008
Comments and Questions to Webmaster TNF49@aol.com