Frank Lloyd Wright's Organic Architecture
Alive & Well on Planet Earth





<>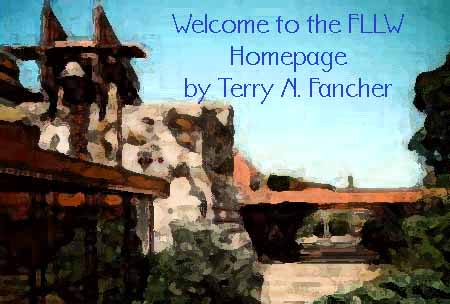 ---
If you click on any of the photographs, they will fill your screen. You can print them from your computer for personal use only.
---
Frank Lloyd Wright Virtual Tour
---
Early in 1998 the world was abuzz with the movie Titanic. The ocean liner has been on the bottom of the ocean since 1912, and yet there is a growing interest in it. Recently interest was re-generated for something that is older than the Titanic, but is continuing to grow. The architecture of Frank Lloyd Wright is alive and well. In 1912 when the Titanic sank, Frank Lloyd Wright had already been an architect for over 15 years. Wright has now been dead since 1959, but his work continues to gain a foothold into the way Americans look at the homes they live in, the buildings they work in, go to school in, and worship in.
In the fall of 1998 a new documentary by Ken Burns and Lynn Novick was released about Frank Lloyd Wright. It was simply called, Frank Lloyd Wright. It was created over a two-year time frame and it touched on the man and his architecture, an organic architecture that is a part of the earth and yet is distinctive with a life of its own. What is alive is a simple fact that architects at Taliesin in Spring Green, Wisconsin and Taliesin West in Scottsdale, Arizona continue their work at a dizzy pace. There are new buildings with the distinctive Taliesin Architects stamp cropping up all over this country, and the world.
As a matter of fact, some 1,100 projects have been completed. Taliesin Architects is busy entering its "second one hundred years of architectural practice." The body of work undertaken, according to information on Taliesin and Taliesin West, includes: "cultural and performing arts complexes, civic centers, resort hotels, golfing facilities, health care facilities, university buildings, industrial facilities, conference centers, office buildings, churches, banks, multifamily housing, custom homes, and residential master plans."
In 1998 I was witness to the living architecture "laboratory" of Taliesin West in Scottsdale, Arizona. That tour is what sparked the idea for this web page. At Taliesin West I saw a living structure that blends with its environment. It changes with the time of day, as most places change with the seasons. The complex of structures makes one comfortable inside and out, and teases the senses with the way shadows hit from different angles. Plastics, wood, steel, and molded resins made of polystyrene. Modern technology for the world of the future is being used today at Taliesin West. Reality in the present, not dreams of the future. Wright consistently pushed the limits of technology then, and the designs coming out of Taliesin Architects today still push technology to respond to nature. Whether it is in the use of seamless glass, with mitered edges that connect the inside with the outside; or cloverleafs on highways; or large suburban shopping malls, these were things that Frank Lloyd Wright was talking about with his Broadacre City plans in the early 1930's. They were concepts then. Today they are commonplace.
Pictures of Taliesin West are given below.
Tours of Taliesin West are available, and a web site link is given below. Tours are available by calling 602-860-8810. What you will see there is a constantly changing building, using the latest in computer technology and building technology. The complex is a living laboratory for architecture, whether it is in the use of molded polystyrene plastic to create moldings that appear to be copper, or the use of steel to replace wood.
---

Taliesin West - Scottsdale, Arizona 602-860-2700.
Check out the Frank Lloyd Wright Virtual Tour for more pictures of Taliesin West. Click inside the picture above and it will fill your screen.
---
So many good things have come from the mind of Frank Lloyd Wright. His studios at Taliesin in Spring Green, Wisconsin and Taliesin West in Scottsdale, Arizona have tried new concepts with new materials for years. What many people may not realize is that most of the houses and structures highlighted in the Ken Burns documentary are open to the public.
Today, the work of Frank Lloyd Wright continues. Some buildings designed by Mr. Wright are now maintained and preserved by the Frank Lloyd Wright Foundation and the Taliesin Preservation Commission. The Foundation supports tours of Frank Lloyd Wright buildings around the country each year, and has embarked on an effort to construct an archive of the work Frank Lloyd Wright carried out during his lifetime. There currently is an archive at Taliesin West. It is open to researchers, scholars, and others with a keen interest in the work of Mr. Wright. Many of the 22,000 original drawings have now been encased in mylar as a means of preserving them. Efforts have been discussed to put much of the work on CD-ROM.
Wright is credited with the concept of organic architecture. But what does that really mean? Try to visualize what the word "organic" may have meant to Frank Lloyd Wright in the early part of this century, and then try to relate it to things of today. Read his books, The Living city, The Natural House, and The Future of Architecture. There are books coming out all the time, and some are even being reprinted. Frank Lloyd Wright An American Architecture by Edgar Kaufman is available at Barnes and Noble, as is Frank Lloyd Wright An Autobiography.
The book Frank Lloyd Wright's Usonian Houses by John Sergeant tries to explain the concept, "For Wright, an organic whole is not a state, but a dynamic process, and it is for this reason that he believed that no organic building may ever be finished." So what is organic architecture? Where do we see it today? The plans for houses built on concrete slabs with heating pipes in the floor came from Frank Lloyd Wright. Long low-slung modern houses of native stone and wood, a fireplace to anchor the building to the earth, wide roof overhangs, and entrances that are not readily obvious are Frank Lloyd Wright themes. In his book, The Natural House, Frank Lloyd Wright noted nine things that could be eliminated. But in their place the following could be used: roofs that are not visible; carports instead of garages; slab construction instead of basements; walls, floors, ceilings and windows which fit perfectly so trim is not needed; indirect heating and lighting; walls with built-ins that function as bookshelves, places for art, and places to store things; instead of painted surfaces, the use of wood with clear sealers; walls that are not of plaster; and outside drainage systems that don't require gutters and downspouts. These concepts were all created by the fertile mind of Frank Lloyd Wright. They sound simple today, but not at the beginning of this century. After all, it was Frank Lloyd Wright who designed a house over a water fall, now world-renowned as Fallingwater.
The first thing to be considered in getting to know Frank Lloyd Wright buildings is a membership in the Frank Lloyd Wright Foundation. A quarterly magazine focuses on current issues. Information on the Frank Lloyd Wright Foundation is available through the External Affairs Office of Taliesin West in Scottsdale, Arizona 85261-4430. The Fall 1998 issue of the Frank Lloyd Wright Quarterly focused on the Frank Lloyd Wright Archives, as an international treasure, and on the Ken Burns and Lynn Novick documentary. One article was titled, "The Magic of Wright." That article was written by Robert Campbell, an architect and Pulitzer Prize-winning architecture writer for the Boston Globe. The story written by Campbell was originally written in 1992 to commemorate the 125th anniversary of Wright's birth. Another article focuses on how to preserve the legacy of existing Frank Lloyd Wright buildings. Restoration of Taliesin in Spring Green, before a September 1998 storm toppled a tree damaging the main roof, is also discussed, as is funding for Taliesin West. Another article explains National Recognition that is coming to many of the buildings designed by Mr. Wright. A listing of Wright-designed structures on the National Register of Historic Places is given. "The School of Architecture" discusses the integration of tradition and change, and the work of Taliesin Architects, Ltd. is highlighted. The magazine also lists Frank Lloyd Wright organizations, Wright Celebrations, Books, and Wright Sites open for public tours.
There are three recommended books for seeing the sites. The Architecture of Frank Lloyd Wright by William Allin Storrer, Ph.D. is a catalog of structures. A companion piece is titled The Architecture of Frank Lloyd Wright - a Guide to Extant Structures, also by William Allin Storrer, Ph.D. Both are useful, since one describes the buildings and has pictures. The guide gives directions to the structures and advises which ones are open to the public and which ones are not. A third book is titled A Guide to Frank Lloyd Wright Public Places, edited by Arlene Sanderson.
Here is a brief rundown of some of the sites that are uniquely Wright, and which are open to the public. Some of them were highlighted in the Ken Burns documentary. Tours are available using the phone numbers provided. Tours are at different times of the day, and season, so call in advance. Some are free, some are not. Given below is a short list of buildings you can tour. At the present time there are about 70 structures in America that can be toured. Internet links are provided, where available.
---
Biltmore Hotel - Phoenix, Arizona - guided tours by appointment (or you can stay in the hotel and do it on your own) 602-955-6600.
Check out pictures of the Biltmore Hotel on the Frank Lloyd Wright Virtual Tour.
---
Grady Gammage Memorial Auditorium - Tempe, Arizona - 602-965-5062.
Make sure to check out pictures of the Grady Gammage Memorial Auditorium on the Frank Lloyd Wright Virtual Tour.
---
Aline Barnsdall's Hollyhock House - Los Angeles, California - 213- 913-4157.
Pictures of the Hollyhock House are on the Frank Lloyd Wright Virtual Tour.
---
Guggenheim Museum - New York, New York - 212-423-3652.
---
Kaufman House (Fallingwater) - Mill Run, Pennsylvania 412-329-8501.
---
Monona Terrace Convention Center - Madison, Wisconsin 608-261-4000.
Monona Terrace Photographs by Terry Fancher
There are more pictures of Monona Terrace on the Frank Lloyd Wright Virtual Tour.
---
Marin County Civic Center - San Rafael, California - 415-499-6646.
Florida State University - Lakeland, Florida - 941-680-4116.
Frederick Robie House - Chicago, Illinois - 708-848-1976. (Pictures on Virtual Tour).
Cheney House - Chicago, Illinois - operated as a Bed and Breakfast with reservations required - 708-524-2067. (Pictures on Virtual Tour).
Unity Temple - Oak Park, Illinois - 708-383-8873. (Pictures on Virtual Tour).
Frank Lloyd Wright Home and Studio - Oak Park, Illinois - 708-848-1976. (Pictures on Virtual Tour).
Susan Lawrence Dana House - Springfield, Illinois - 217-782-6776. (Pictures on Virtual Tour).
Community Christian Church - Kansas City, Missouri - 816-561-6531.
Zimmerman House - Manchester, New Hampshire - 603-626-4158. (Pictures on Virtual Tour).
Price Tower - Bartlesville, Oklahoma - 918-661-7471.
Beth Sholom Synagogue - Elkins Park, Pennsylvania 215-887-1342. (Pictures on Virtual Tour).
Pope-Leighey House - Alexandria, Virginia 703-780-4000.
Unitarian Meeting House - Madison, Wisconsin 608-233-9774. (Pictures on Virtual Tour).
S.C. Johnson Wax Company - Racine, Wisconsin 414-260-2154. (Pictures on Virtual Tour).
Seth Peterson Cottage - Reedsburg, Wisconsin - 608-254-6051 (tour information) - 608-254-6551 (rental information).
Taliesin - Spring Green, Wisconsin - 608-588-7900. (Pictures on Virtual Tour).
---
And so the legacy of Frank Floyd Wright lives on. The documentary proved it in the buildings highlighted. The documentary portrayed Frank Lloyd Wright as a man, not as a mythological icon of 20th century. It portrayed him as a man who knew what "organic" architecture was, is, and can be. It may even inspire a whole new generation of young men and women who can carry on his legacy of pushing the envelope of technology in the use of native construction materials which rise up from the local environment. His architecture lives on.
---
Check out these links!
Public Broadcasting System Frank Lloyd Wright page
Digital Archives of Frank Lloyd Wright Buildings by Professor Jeffery Howe, Boston College (with links to Fallingwater, Wingspread, Taliesin West, Unity Temple, The Johnson Wax Building, The Darwin D. Martin House, The Guggenheim Museum, and more)
---
---
---
Last updated 5/20/2008
Comments & Questions to Webmaster tnf49@aol.com